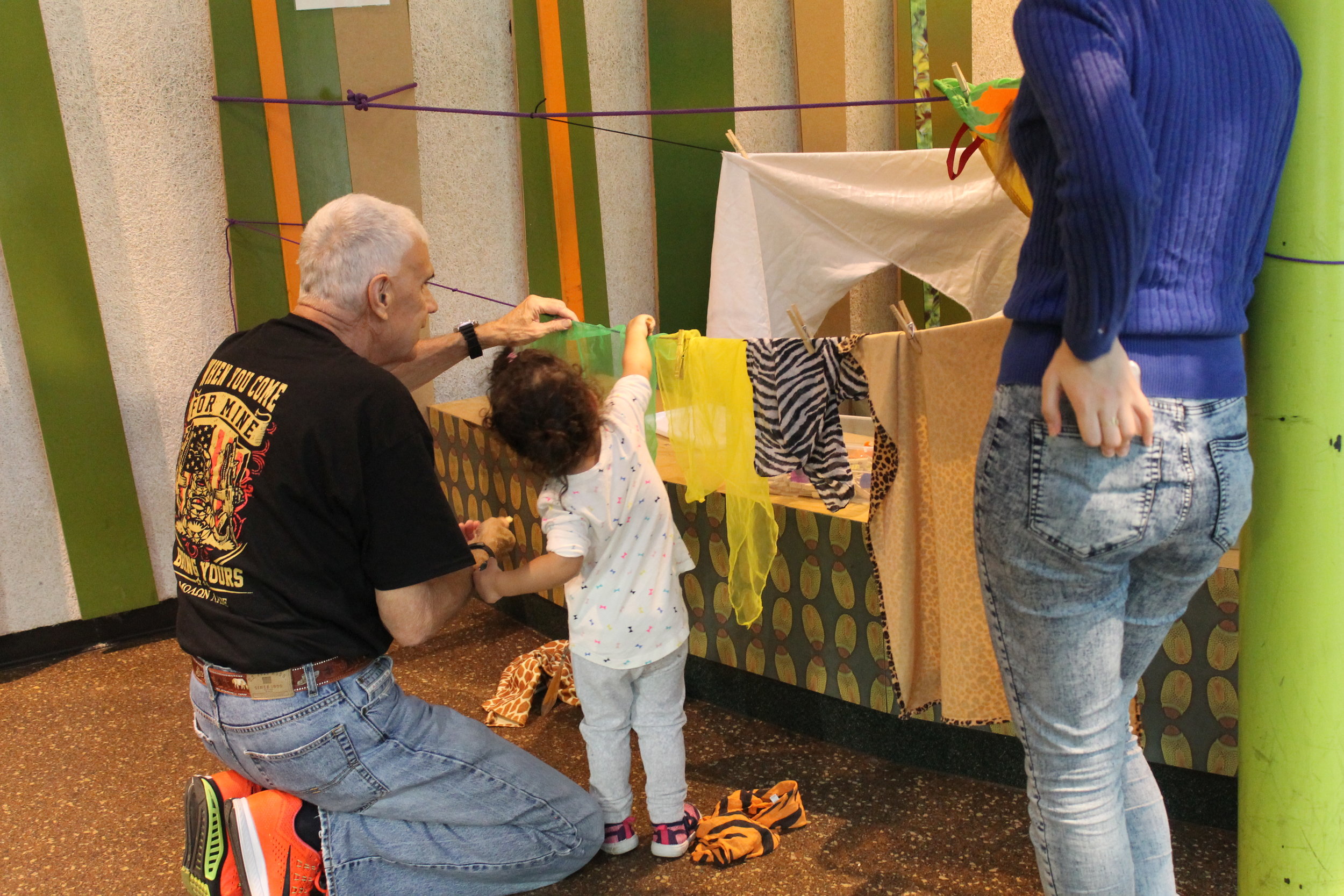 We'd like to start off by saying an enormous, "THANK YOU!" to each and every one of you for joining us this fall at LEAP at Lincoln Park Zoo. The past nine weeks have been an absolutely amazing for us, and we hope you all enjoyed your time spent at the zoo as well. I looked forward to every day that I got to spend at LEAP, and I know Nicole, Beth, Jamie, Mary, and Sue did too. It's unbelievable to me that it's already that time of year to say goodbye, or at least, "See ya later!"

The LEAP program is so special because you and your child get to spend time together, learning and playing as you are surrounded by some truly fascinating animals. Children learned about balance and building with river otters swimming just feet away. Dwarf crocodiles looked on as LEAPers explored their imaginations, trying on capes, furry vests, and goggles. They experienced nature while digging through sand in search of treasures and taking a closer look at some native plants using magnifying glasses. These animal and nature connections that developed and deepened throughout the series are important to us as environmental educators and have been incredibly rewarding to be a part of.

Getting to know all of you and your little ones and watching them grow has also been why this program is so gratifying and meaningful. We've seen increases in confidence, language, attention span, creativity, and independence across the board! The free play format of LEAP can sometimes make it difficult to assess growth and learning, but you as parents and caregivers are well-equipped to evaluate change in your child. We ask that you take a few moments to consider the following, thinking back to September before LEAP began, to now:
Independence and Self-Directed Play
Does your child direct her own play? Is she confident in choosing which station to explore and for how long? Does he need encouragement or help getting started?
Confidence and Comfort in Trying New Things
Is your child interested and excited to discover a new material in the sensory bin or a new process art project? Does your child want to explore things he or she didn't before? Are you seeking our sensory experiences outside of LEAP?
Attention Span
Have you found your child stays at a station longer than before? Does he spend more time doing something when he chooses the activity?
New Vocabulary
Have you noticed new vocabulary words in conversations with other children, with you, or with teachers or other adults? Are you hearing them use words to describe their actions? Is your child using adjectives to describe how things sound, look, smell, or feel like more often?
Creativity and Imagination
Is your child using the materials in innovative, creative, and out of the box ways? Does she pretend she's an owl and hoot? Does he enjoy acting like a bear and walking around on all fours? Don't underestimate the value of imaginary play and remember that "make believe" has been shown to strengthen a wide variety of mental abilities.
We'd love to hear how you answered the questions above so we can better understand the impact LEAP has on your child's learning and development. It can take a while before these changes become evident, so keep an eye out for change in your child over time.
We've loved becoming a little LEAP community these last nine weeks and look forward to seeing some of you return in January! Always feel free to share your ideas with us and what you're doing at home to incorporate nature play into your regular routine. Remember to keep in touch!
**If you're looking for something to do this winter and would like to continue your adventures in play at Lincoln Park Zoo, come down to the Farm in the Zoo! We'll be launching some play activities, similar to those we do during LEAP beginning in early December and lasting through mid-February. Activities will take place in the red Main Barn at the Farm in the Zoo on Tuesdays and Sundays from 10am-12pm. We hope to see you there!
--The Lincoln Park Zoo LEAP Team