As you walked through RAJ two weeks ago, you may have heard a whirring sound or seen tiny legs jumping up and down. Our art project was hands-on and it seemed to be a hit!
The marble spin art project is one of our favorites because it's a great example of process art. Process art focuses on the act of creating, not necessarily the end result. With this marble project, every LEAPer's artwork was different and unique, even though they used the same materials!
So how can you do this at home? It's easy! Here's what you'll need:
Holdable container – We used shoeboxes, storage Tupperware, and coffee cans. Make sure you have a lid!
Paper – Cut it to the size of your container. For the shoeboxes, we laid the paper flat on the bottom. For the coffee cans, we lined the inside with a sheet of paper.
Washable paint – We put our paint inside of squeeze bottles to make it easier to use, but you'll just need to be able to pour the paint inside the container.
Marbles – Any size will do! We like using larger ones since they are easier to hold and not a choking hazard :)
Water – It's nice to have water close by to rinse off the marbles and/or messy hands!
A place to dry your artwork – You may want to make more than one masterpiece, so having a spot to place wet art is very helpful.
Open up the container, add your paper, squirt some paint, and add your marble(s). Then, SHAKE! Your artwork will be ready in a few seconds.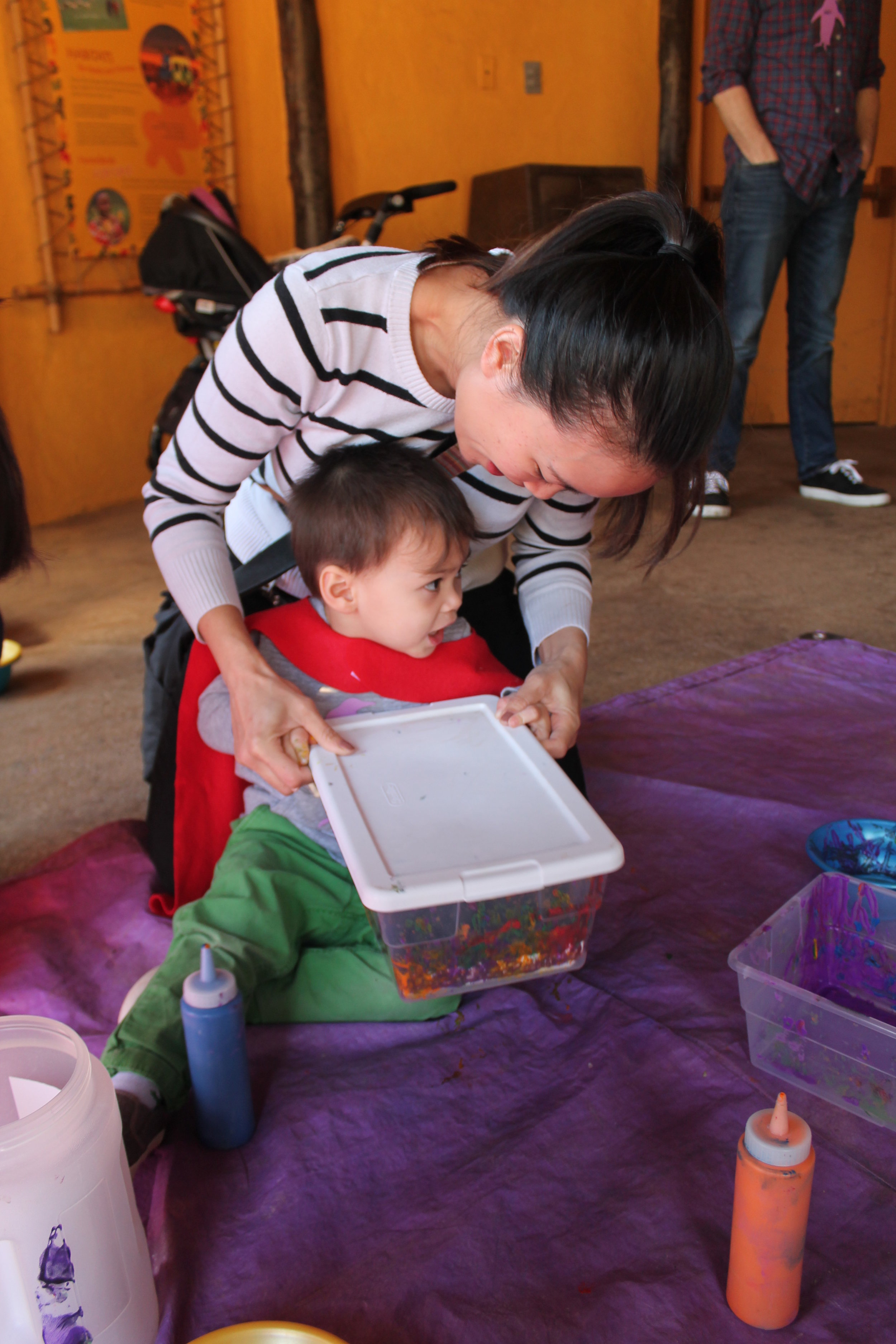 Art is beneficial to children, no matter how it is presented. Process art opens up a world of exploration for kids. They are free to use the materials however they choose and create something that is uniquely theirs. When a child is finished, it is unlikely that his or her creation will look like anyone else's. It's fascinating to see creativity at work!
Process art, like our marble project, benefits the whole child. The freedom to work creatively provides social-emotional, language, cognitive, and physical benefits:
Social-Emotional – Children can relax, focus, feel successful, and express their feelings.
Language – Children and adults can engage in conversation about their artwork. This provides wonderful opportunities for caregivers to model language.
Cognitive – Children have the opportunity to compare, predict, plan, and problem solve.
Physical – Children use their fine motor skills to paint, write, glue, mold clay, and combine materials.
We loved seeing young Picassos at work, spinning marbles and mixing colors. Have you tried any art at home? Let us know! We love to hear about your adventures!
Written by Nicole Filippone