Hooray! It's time to celebrate, summer is officially here! The weather is heating up and we can feel the warm sun shining down on our skin. Summertime gives us the opportunity to invite nature into our daily lives. Whether it's in a backyard, park, beach, forest preserve, or patio spending time in and with nature helps us learn, explore and play!
Try out some of our favorite ways to enjoy nature this season:
Whether you have 5 minutes or 30 minutes, curiosity and discovery can make walks magical! Can you be gentle enough to hold a rollie pollie? Can you listen for wildlife in the trees? Can your fingers feel the texture of a flower petal? Can you see the stars (or satellites) in the night sky? Walks can be a perfect way to wind down the day and enjoy a gentle breeze.
Do you remember squishing mud between your toes? What about making mud pies? Mud is an often forgotten tool of play and imagination. Let's bring it back this summer, all you need is dirt and water! Add some tools like bowls, pans and spoons to really stir things up! Whether you're making your own mud or enjoying it after the rain, mud play is a great way to get messy, stay cool and have fun!
Sometimes we just need a safe, cool space to be in outside and fort building allows us to create that space almost anywhere! You might need some rope, clothespins, or even sticks to help drape and hang sheets out to create a cool, shady space. That space can be a castle, a cave, a spaceship, anything! Whatever kind of space you build can provide relief on the sunny days ahead.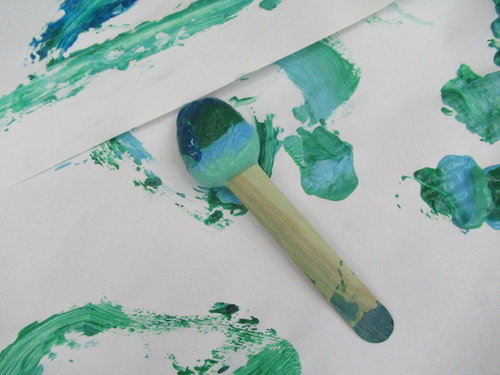 If watching your drawing disappear is too disappointing for your little one, try using some paint popsicles instead! Fill up some paper cups or an ice cube tray with paint, add a craft stick and pop them in the freezer. Once they're ready to use take them outside with your choice of canvas and paint as the ice melts in the sun!

Do your little ones notice how the moon changes throughout the month? Take some time each night to draw the moon on a calendar. If you're doing a late car ride encourage observing how the moon seems to follow along your route.
Little hands can find little creatures crawling all around. Start with sidewalks and flowering plants then move on to turning over rocks or digging up some soil. If bugs make you a bit squeamish watch them from a comfortable distance and imagine what kind of tasks they might be completing!
What better way to stay cool than with water! All you need is a container with water and something to draw with. We like to use paintbrushes, sponges and our hands! You can draw on the sidewalk, on trees, or even on yourself, your canvas is unlimited when you're outside. Watch the drawings disappear as the sun heats it up enough to cause evaporation! There are many ways you can alternate this activity to fit your little ones wishes. Use ice cubes to draw, use a spray bottle, add scents, be creative!
Some days are just too hot to go outside so we must seek shelter inside away from the heat. We believe nature play can be brought indoors with us to continue the fun! If you see one of these days in the near future, plan ahead by collecting some loose parts together from outdoors; leaves, rocks, petals, and pine-cones are some of our favorites. With some bowls, baskets or even egg cartons your little ones can play, sort and discover!
What's your favorite summer nature activity? Let us know in the comments below!
If you're interested in more ways to soak up that vitamin D check out Vitamin N by Richard Louv for 500 more ways to explore and play in nature.
Written by Brenda Rivera